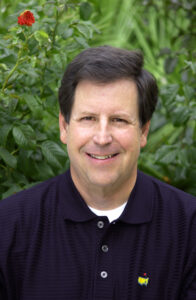 Mark Grayson was born in Oakland, California the oldest of five children (and the only boy).  His family moved to Las Vegas when he was still very young.  Las Vegas, of course, was quite an adjustment from northern California.  "It was h-o-t  hot!"  Fortunately, the young family moved into a home with a swimming pool.  During the summers, every waking moment was spent either in the pool, or in his dark, air-conditioned bedroom curled up with a book.  Not surprisingly, he became a voracious reader, buying dozens of books from his school's Book Fair book-sales program.  "The books were cheap – expensive ones were a quarter.  The other kids would buy one book, maybe two.  I'd buy them by the box full.   I was lucky – my mom funded my passion."
Upon leaving his paper-route, he worked at McDonalds (starting at age 14 when such things were still possible), and then, during high-school, at a gas station pumping gas and changing tires.
For college, he headed to UNLV where he received a bachelor's degree in business administration.   "College was intense – I graduated start-to-finish in three-and-a-half years.  I was still able to do a little writing on my own but I got more serious after graduation – started collecting rejection slips, that sort of thing."
After three years working for a large national apartment developer, Grayson started his first homebuilding company.  "I loved the creative aspect, and I really enjoyed building a team of empowered employees."  Ten years later, he sold that company.  Then, too young to retire, he repeated the process – two more times.
In 2012, "between companies", he released his debut novel, the self-published mystery Angel Dance,  in which he introduced the world to Danny Logan and the members of the Logan Private Investigations Agency: Antoinette "Toni" Blair, Joaquin "Doc" Kiahtel, Richard Taylor (the semi-retired previous owner of the agency), and Kenny Hale.  Angel Dance resonated with readers (more than 500 5-star ratings on Amazon) and reviewers alike. Kirkus Reviews said Grayson is "Someone to watch out for."
Grayson followed up on the success of Angel Dance over the next three years, releasing new novels in the Danny Logan Mystery Series including No Way to Die, Isabel's Run, Mona Lisa Eyes, and Blue Molly, all to high acclaim.  The stories are set in the Pacific Northwest and the subject matter ranges from murder to the theft of cryptography to child trafficking to drug distribution.  In total, the Danny Logan Mystery Series has more than 7,000 ratings on Goodreads (where the average rating is 4.09) and nearly 4,000 ratings on Amazon (the average rating is 4.4 with nearly 2,300 5-star ratings).
His newest release, The Rain City Hustle, is an homage to the great caper movie, The Sting – with a Seattle/Danny Logan spin.  Once again, the Logan PI team is called on to help someone in distress – this time an old army buddy of Danny's.  The release date is scheduled for 9-15-2022.
Grayson's work has been sold in countries around the world including the USA, Canada, Mexico, United Kingdom, Australia, India, Japan, Germany, France, and others. He lives in Washington state with his wife, Michelle, and their two German Shepherds.