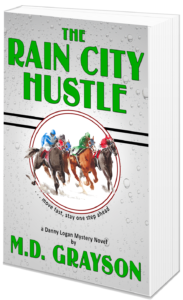 Good news!  The Rain City Hustle was officially released this past Thursday.  To all those of you who've already purchased a copy, thanks!  I appreciate it.
There are something like six million books available at Amazon and The Hustle is slowly making its way up the best seller rankings.  The higher the ranking, the more Amazon promotes the book.  So, if  you haven't already done so, you can pick up your copy here:  The Rain Street Hustle.
When you're finished reading, if you liked it, please consider leaving a review.  Reviews are an important factor in the Amazon algorithm that determines how much and how aggressively Amazon promotes the book.
Again, thanks for your continued support. And remember:  move fast, stay one step ahead!